Protein Packed Salad
A guest post from our customer Jenni:
If you're looking to make healthy lunch or dinner choices but have always thought salads (especially those of the meatless variety) were boring, here is something new!  This vegetarian salad is guaranteed to rock your taste buds and give you enough protein to sustain you through an entire day of…well…whatever you have planned.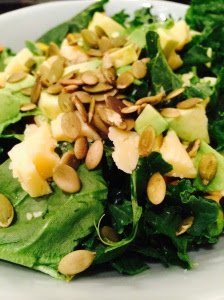 Eating for a big race? No problem.
Fasting for spiritual or physical reasons? Gotcha covered.
Wanting to look slim and fit for a big night out? Cool. Consider it done.
Sure, you could carb-(over)-load, but that will only weigh you down and bloat you out. My advice? Stay fit and trim with a high protein salad instead.
Salad Base (Greens)
Salad Guts (Protein)
Avocado
Boiled eggs
Raw cheese
Nuts and seeds (raw and sprouted, preferably)
Salad Sprinkles (Toppings)
Grape tomatoes
Sweet peppers
Mushrooms
Salad Flair (Dressing)
EVOO
Balsamic vinegar
Dijon mustard
Garlic
Scallion
Dried basil
Salt & pepper
Mix it all up however you like. I'm fond of diced veggies on a bed of small pieces of greens, but others prefer larger slices and big leaves. Do what you want… and enjoy!
Bonus Baby Salad
Since it was Samantha's dinner-time as well, I shared most of the components of my salad with her, and she ate it all up. (Well, to be truthful, she moved allllll of her veggies OFF of the plate first to see Minnie Mouse, then ate her dinner off the table. Note to self: don't buy plates with visually stimulating characters again.)