Paleo Roasted Cauliflower Soup
A guest post from our customer Laura: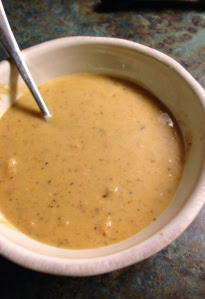 I recently had a delicious cauliflower soup for dinner. Give it a try, even my kiddos ate it with minimum fuss. Which, let me tell you, is a major victory in my book!
Ingredients:
2 heads of cauliflower, roughly chopped
2 shallots or 1 onion, chopped finely
3-4 garlic cloves, minced
1 cup water
2 1/2 cups of vegetable stock
1/2 tsp thyme
1/2 tsp parsley
1 bay leaf
2 cups of coconut milk
olive oil
salt
pepper
Directions:
Combine your veggies (including the garlic) in some olive oil and put on a foil lined cookie sheet.  Bake for 30 minutes at 425 degrees.
After baking, put the veggies in a stockpot with the liquids and spices.  Bring to a boil over medium-high heat.  Reduce heat to a simmer and cover.  Cook for 30 minutes.
Take out the bay leaf and then use an immersion blender to blend the veggies and liquids.  Finally, add the coconut milk and blend.  Season with salt and pepper.
Enjoy!
Originally posted at:  http://buttsbites.wordpress.com