Chewy Chocolate Cookies (No Flour, No Refined Sugar)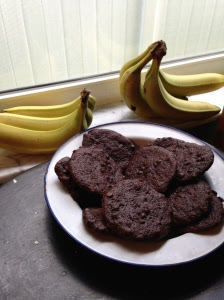 A guest post from our customer Laura!
Enter Chewy Chocolate Cookies for this week's yummy treat or dessert!  Your kids will thank you!
Ingredients:
2 small bananas
3 TBSP molasses
2 TBSP honey
1/3 cup Enjoy Life mini chocolate chip morsels, plus an additional 1/2 cup morsels (divided)
2 TBSP coconut oil
1/4 cup cacao powder
1/4 cup tapioca starch/flour
2 tsp vanilla
pinch of salt
1/8 tsp baking soda
Directions:
Preheat the oven to 350 degrees.  Make sure to line your baking sheet with parchment paper.
Melt your 1/3 cup of chocolate morsels and coconut oil together.  Use a double boiler to melt.
Put bananas, molasses, and honey in the food processor.  Let run for a while until smooth.
Add your chocolate mixture and the vanilla to the food processor and mix.
In a separate bowl, mix the dry ingredients and then add to the food processor.
Finally, stir the additional chocolate chips in the batter by hand.
Use a small cookie batter scoop and make sure to leave plenty of space between each cookie.  I put mine on each cookie sheet.  Once I place all of the scoops on the cookie sheet, I shake the cookie sheet to get the batter to spread out a bit.  Thin cookies turn out better, so aim for 2 inches across or so.  This batter won't really spread during cooking.
Bake for 10 minutes.  Put the whole parchment sheet on a cooling rack.  Once cooled, use a silicone spatula to put them on a plate and place in the freezer.  Approximately 10 minutes to get them to "gel" further.  I would keep them in the freezer until ready to eat.
Originally posted:  http://buttsbites.wordpress.com