Cauliflower "rice" pilaf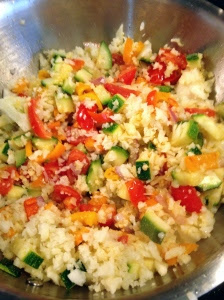 A guest post from our customer Laura!
This delicious side dish is a real crowd pleaser. A great item to bring to a buffet, pot luck, or to entertain with for sure!
Ingredients:
1 head cauliflower
4 mini peppers, diced
1/2 purple onion, diced
8 grape tomatoes, diced
1 large zucchini, diced
1 tbsp coconut oil
1 tbsp butter
1/8 tsp Italian seasoning
salt, pepper
Cook you cauliflower until tender. Remove and set aside to cool. Preheat a large skillet over medium and add your coconut oil. Once melted, add your diced veggies and cook for approximately 8-10 minutes. Once your cauliflower has cooled somewhat, add it to your food processor. You will want to pulse it until it resembles coarse crumbs or "rice" shapes.
Add the cauliflower to your skillet and mix to combine.
Add your seasonings and butter.
Enjoy!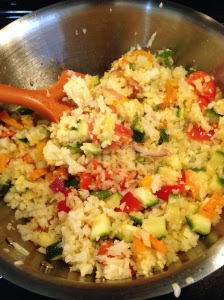 Originally posted on:  http://buttsbites.wordpress.com